Concertina Players are one of the most distinctive sounds in Irish music. The concertina is especially associated with the county of Clare, where there used to be almost as many concertina players as sheep in the Irish countryside. Concertina playing declined during the middle of the 20th century, but now it has roared back. Today, there are a number of brilliant young players who will continue the tradition of concertina playing for decades to come.
It would be impossible to list all of the great concertina players from Ireland. Old and young, traditional and innovative, old and new are all represented in these 10. You might even catch the concertina bug if you listen to them all!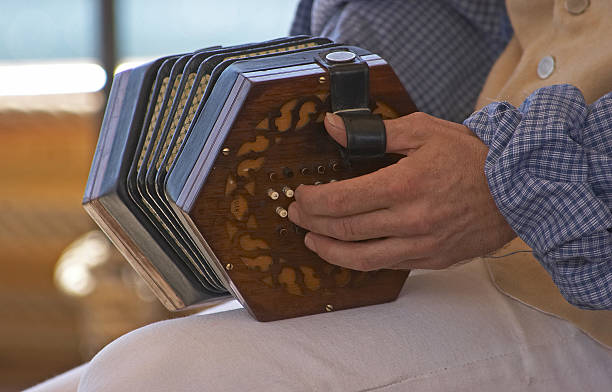 Noel Hill
Concertina Music From Noel Hill
Noel Hill has had the greatest influence on modern Irish Concertina Players, and few players are as admired as he is. The concertina is his passion, having grown up in the heartland of Ireland, West Clare, in a family where concertina playing was a constant. Hill had initially intended to learn the uilleann pipes, but instead brought to the concertina some of the sounds and techniques he heard from Willie Clancy and other pipers. Since recording his first album at the age of 17, he has been a mainstay of the Irish music scene. He has become one of the building blocks of modern playing, and he is consistently cited as an example by top concertina players. Despite his frequent breaks from performing and recording, his influence on Irish music is still very strong.
Edel Fox
Edel Fox,Tara Breen & Brian Mooney – Poirt Charlie Lennon | Tigh Michael Kerin |Geantraí 2011 | TG4
Eddie Fox grew up in a town known as one of the epicenters of Irish music, Miltown Malbay, in County Clare. In addition to hosting thousands of players during the annual Willie Clancy Summer School, it is also in the heart of concertina country. Fox had a great start on her concertina, taking lessons from Noel Hill when she was just six years old. She was named TG4's Young Musician of the Year in 2004, and now works in the TV industry presenting arts and culture programs. In addition to performing, she also teaches at many big Irish festivals, and is in demand as a teacher.

Mrs. Crotty
Mrs Crotty-,Cooraclare–Cooraclare–West Clare. Concertina
"Mrs. Crotty," as she is commonly known, is Elizabeth Crotty. Crotty was one of the most important concertina players in the 20th century. She was born in 1885, when the concertina was becoming a popular instrument. In Clare, it was said that every house had a concertina at one time, and she was steeped in tradition. She did not emigrate, tour, or release any commercial recordings like most other well-known musicians. Since she lived in West Clare for most of her life, she was largely unknown outside the area. The music was recorded by Radio Éireann during the 1950s, when folk music was gaining popularity. Her musical skills were self-taught, and she could not read staff notation. Clarity and rhythm are the key features of her playing, which is reminiscent of an older style of Concertina Players.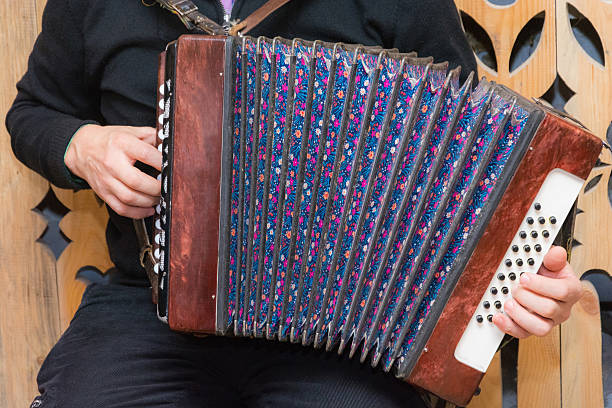 Niall Vallely
Niall Vallely is one of the few concertina players on this list who is not from Clare. His family was musical in Armagh, and he began playing the concertina when he was seven years old. When he was ready to go to college, he moved to Cork, where he has lived since 1988. He has established himself as one of the greatest composers and players of Irish music. He founded the band Nomos there, which became known for its innovative music and energetic performances. Karan Casey is Vallely's wife, and the couple frequently appears together on recordings and concerts. Buille, a traditional Irish band with a contemporary classical edge, is also a founding member of his.
Chris Droney
These are the names of all the winners of the All-Ireland Concertina Title between 1956 and 1967: Chris Droney. That's all! Born and raised in Bellharbour, he played in céil bands and dance halls in Ireland as a young man. As a teenager, he performed at his first dance hall. Musicians can hear his musical upbringing in his relaxed yet rhythmic playing, perfect for dancing. His first solo recording was released in 1962, followed by two others in the following years. A stalwart of the traditional music scene both in his home county of Clare and across Ireland, he is also a renowned guitarist.

Caitlín Nic Gabhann
Sunday's Well, waltz ; and other tunes / Caitlín Nic Gabhann ; Caoimhín Ó Fearghail
As a musician, dancer, and composer, Caitlin Nic Gabhann has quickly established herself. She grew up in Co. Meath moved to Cork to study at UCC, where she discovered her passion for writing music. The beautiful Sunday's Well Waltz, named after a neighborhood in Cork, is one of her compositions. With her husband Ciarán * Maonaigh, a fiddle player from Donegal, she's formed a very successful duo. The band recently joined forces with bouzouki player Cathal * Curráin as the High Seas. Group that combines music, singing, and dancing in a way that sounds both traditional and contemporary.
Cormac Begley
Libby McCrohan & Cormac Begley
Cormac Begley isn't content with playing the typical Anglo concertina. Throughout his career, he has experimented with a wide range of instruments, from the bass to the piccolo. Through the different sounds they produce, he has been able to develop a unique style. Begley hails from West Kerry, and she is part of the incredibly talented Begley family. Brendan and Seamus, Brendan's father and uncle, have both made their names as accordion players, but Cormac has made his mark as a concertina player. Often, he can be found busking along Shop Street in Galway, where he runs the popular Tunes In A Church concert series.

Mícheál Ó Raghallaigh
Mícheál Ó Raghallaigh (Concertina) – Unknown Jig / Mist on the Mountain / Kitty's Rambles
Dubliner M*cheál * Raghallaigh won the All-Ireland concertina championship in 1990. As a solo artist and member of various bands, he has recorded a number of albums since then. As a reviewer put it, Raghallaigh swims against the tide of current Irish traditional music. While some players and bands geared up the tempos and wrote finger-twisting tunes, he has been content to take a more relaxed and subtle approach. As a result, Providence gained a lot of attention when they debuted in 1999. In another project he collaborated with fiddle player Caomh*n * Raghallaigh (no relation) and flute player Catherine McEvoy to record a well-received album of "pure-drop" traditional Irish music.
Kitty Hayes
Kitty Hayes and Eoin O'Neill youtube
Kitty Hayes' story is quite different from most in this list of players who have played their whole lives. Known as an elder stateswoman in the local music scene, Kitty Hayes was another concertina player from Miltown Malbay in Clare. She used to play her father's concertina when no one was looking when she was a girl in the 1930s and 1940s. During her teenage years, she played at dances and parties at people's houses. Having gotten married and started a family, I was unable to devote the time or money to a Concertina Players. Consequently, she went nearly 45 years without playing. In the early 1990s, she picked up the instrument again, and began performing. Although she had been playing for such a long time, her playing still reflected the older, traditional style she grew up with.

Gearóid Ó hAllmhuráin
Gearóid Ó hAllmhuráin & Dylan Foley at MAD Week 2015
Gearóid Ó hAllmhuráin has a deep understanding of Irish musical history and is a musician as well as a scholar. Professor of Irish Studies at Concordia University in Montreal, he has been there for many years. It is in his native country of Clare that he has researched and written extensively about concertina players. However, he has a broader interest than academics. He's also an accomplished musician who holds All-Ireland titles on the concertina and uilleann pipes. Despite decades of study, his playing never sounds dry or overwrought, despite decades of study.