Tin whistles are among the most fun instruments to play. Suitable for a variety of types of music, this pocket-sized device has a sweet, chirpy tone. When someone first learns Irish music, it is usually the first instrument they pick up. Whether you are looking for a tin whistle online or in person, there are many places to buy them. Here are the best places to find your perfect tin whistles for sale, whether you're looking for a new or used one!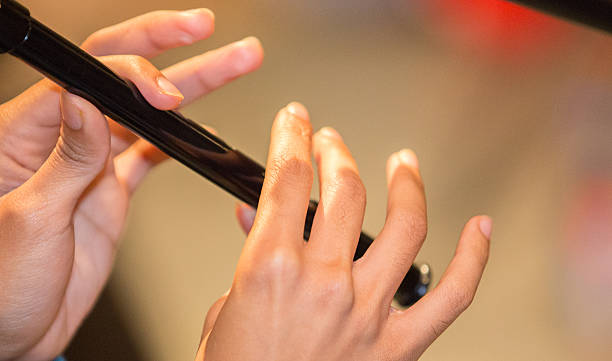 Tin Whistles For Sale – Where To Find Them
Tin whistles are best purchased directly from the maker. Almost all manufacturers nowadays have websites with information about their products, prices, and other details. You can often get them to customize your order for you.
I can't list all of them here due to the sheer number of makers. You can learn what other players recommend by looking at forums like Chiff and Fipple or The Session. YouTube is also a great place to listen to different kinds of whistles being played, as well as to see what your favorite tin whistle player likes. The number of makers is almost as great as the number of players, and there are plenty of opinions about who makes the best games!
There are quite a few mass-produced brands of tin whistles for sale for less than $20, and they are quite inexpensive compared to other instruments. It is not uncommon for local music stores to have at least one brand of whistle on hand, and online retailers usually do as well. However, there are also a number of specialty shops that not only sell whistles, but are knowledgeable about them as well. Visiting one of these shops is a great way to get guidance if you're not sure what you're looking for.

Tin whistles for sale by the world's largest online retailer. The majority of their selection consists of mass-produced, less expensive brands like Generation, Waltons, and Clarke. There are also Dixon and Chieftain whistles available, and every once in a while another brand appears. Despite the fact that they do not have as much expertise or ability to answer questions as smaller, more focused shops do, there is a big convenience factor. You can return items fairly easily, and if you're a Prime member, you can take advantage of free two-day shipping.
The Irish Flute Store is based in Colorado, USA and run by Blayne Chastain. Bechain is an excellent flute and whistle player, and he knows a lot about the tin whistles for sale. He sells new and used whistles from a variety of makers, including some very high-end, custom whistles. You can learn the tin whistle from his online lesson series if you're new to it. You'll get a free Dixon whistle when you enroll.
Shop for folk instruments at Hobgoblin, a large online retailer. They mainly carry mass-produced brands like Generation, Clarke, and Tony Dixon. They also sell high whistles from Chieftain, but their selection of low whistles includes Howard and Chieftain. The above link is for the US site; a UK site is also available. Ordering from that site is the best option if you are not in the United States.
The whistle collection of Big Whistle Music, which is based in England, is possibly the largest available online. There are cheaper mass-produced brands like Clarke and Generation as well as some very high-end makers like Colin Goldie. Prices for American/European buyers will fluctuate based on exchange rates because they are listed in British pounds. Phil Brown, the owner, is very knowledgeable about the whistles he sells. Their " Special Offers " section is another thing to keep in mind. You can find some good deals there, but you must purchase your whistle from that section to receive the discount. You'll have to pay full price if you find it elsewhere on the site.
One of the largest online dealers of folk instruments is Lark in the Morning. Tin whistles from Dixon, Susato, and Chieftain are available for sale at this store.
Directly from the makers
The number of tin whistle makers is far too great to mention them all. In addition, many manufacturers customize each whistle. It may take some time before you receive your whistle after ordering. It is an obvious benefit to use this process, since you can customize your order to get exactly what you want. There are, however, a number of popular manufacturers who offer ready-made tin whistles for sale that can be ordered online. You will usually have to wait a week or two for your new whistle to arrive in the mail. That's great news for whistle players who are impatient!

The best place to find used tin whistles for sale
Used tin whistles for sale are quite popular out there. Many whistle players suffer from what they call "Whistle Over-Acquisition Disorder," or "WOAD." You may suffer from it yourself! Due to this, there are often many used tin whistles on sale at a discount. It's a great idea to buy used if you're interested in trying something out. You can probably sell your whistle for around the same price as you paid, if you don't like it.
You should do your due diligence when buying a used tin whistle online, as you would with any other online purchase. Tin whistles for sale are usually offered for sale by fellow players who are looking to get rid of an instrument they no longer use. However, as with anything, there are some people out there looking to make a quick buck. Make sure you ask lots of questions, and don't be afraid to back out if it doesn't feel right. Furthermore, using a credit card or PayPal may provide you with more protection in the event of fraud.

eBay is the go-to place for most used objects these days, and whistles are no exception. There are a lot of used whistles available on eBay, and a lot of new ones as well. eBay makes international sales easier through currency conversion and shipping charge calculations, and the Buyer Protection program is a great way to protect against fraud.
Chiff and Fipple is a site dedicated to Irish music and tin whistles for sale. These discussion forums are very active, and offer a wealth of information about tin whistle playing, buying, and even making. You can probably find the answer to your question about a specific model or maker on Chiff and Fipple. There is also a "Used Instrument Exchange" where people are able to post tin whistles for sale. It's worth posting a "want to buy" notice even if you don't see what you're looking for, just in case someone has one lying around that they'd be willing to sell.
The Session is another great website dedicated to traditional Irish music. TuneDB boasts a remarkable database of tunes, making it a great resource for beginners and experts alike. The site also has an active discussion board. The site has a broader focus than Chiff and Fipple since it isn't exclusively about whistles. However, there is still a lot of information available in the archives, and there are many active and helpful posters. Tin whistles for sale are often advertised for sale, and a "want to buy" post is a great idea if you are looking for something specific.