When you strap your travel banjo to your back and board the next train heading west, there's a certain romance involved. Unfortunately, for most of us, the reality of traveling consists of stuffing our banjos in the overhead compartment of an airplane. Regardless of where you go or how you get there, one thing is clear: a banjo makes a great travel companion.
You can find a variety of great options for travel banjos. Here's our guide to finding the best travel banjo, whether you're looking for something compact, sturdy, or easy to play (or all three).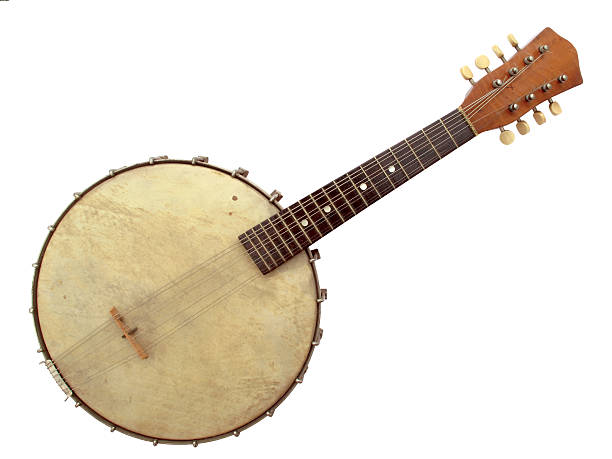 The Types of Travel Banjo
There are three main types of travel banjos, each with pros and cons. In the end, you must determine which is right for you based on your needs. A mini travel banjo may be the perfect solution if you just need something portable to practice with. If you plan to play jam sessions or gigs, a cheap full-size banjo might be the best choice.

The Mini Travel Banjos
The scale of these instruments is short, and they are usually tuned cGCEG, a fourth above standard banjo tuning. So, everything you play will need to be transposed. When you play a G chord, it will sound like a C, if you play a C, it will sound like a F, etc.
Additionally, they have a markedly different sound than a normal banjo due to their smaller size. Because of the high tuning, mini travel banjos tend to be quieter and tinier-sounding.
Mini banjos are thus less useful for playing in groups because of this. On the other hand, their smaller size makes them immensely portable. Mini travel banjos like the Gold Tone Plucky or Dean Backwoods Mini might be the best choice for you if you need a banjo that fits in your carry-on bag or just want to play around on your own.

Travel banjos on a grand scale
Banjos like these are just a bit smaller than normal banjos. Most of them are tuned to aEAC#E, one step up from standard banjo tuning. This means that you will have to transpose whenever you are playing one with someone else. You could, however, simply put heavier strings on it and tune it to standard tuning.
A-scale travel banjos are a middle ground between small and large banjos. These banjos can be a great option if you're looking for something a little more portable than your current banjo. The smaller size makes them lighter, but they still have similar tones and volume to a regular banjo. Still, the small size savings may not be worth it if you have to purchase specialty strings to keep your banjo in standard gDGBD tuning.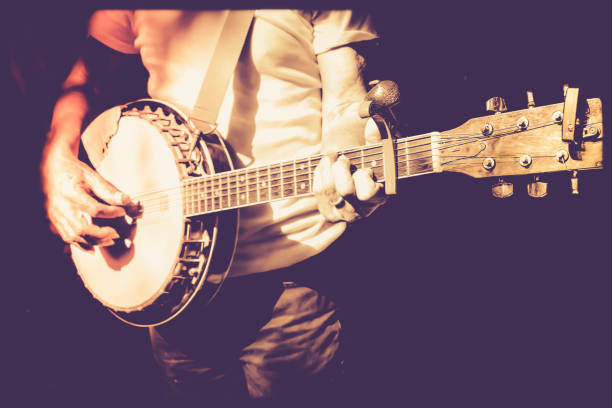 The Cheap, Lightweight Normal Banjos
A third option is to simply buy another travel banjo, preferably one that is easy to carry and you are not afraid to drop. A banjo with an open back is usually better for this, as a resonator adds a lot of weight. Great examples of this are the Gold Tone AC-1 and Rogue starter banjos. They can make excellent travel companions because they are reasonably priced yet well-built.
You won't be able to take this banjo on a plane or in your trunk since it's a normal-scale banjo. Even a lightweight open-back banjo can be cumbersome. With this banjo, you will have a full-sized instrument that feels and sounds just like a banjo should. If you're planning to play with a group or just don't want to transpose constantly, this is the best option.

The Gold Tone AC-1
Summary: A full-sized banjo that won't break the bank or the scales
Best for: Anyone who wants to travel with a lighter banjo
When it comes to travel, the AC-1 has one of the best features in its weight. It weighs less than 4 pounds, which is extremely light for a full-sized banjo. This is thanks to Gold Tone's use of an acoustic composite material. In place of the usual wooden neck and rim, the AC-1's molded composite body can withstand the elements better than its wooden counterparts.
Geoff Hohwald playing the $249 AC-1 Banjo
The AC-Traveler travel banjo is made by Gold Tone in their AC series. A-scale banjos are shorter than AC-1s by about 3 inches. Personally, I don't find that 3 inches is that significant, and prefer the scale of a standard banjo. Though the AC-Traveler offers even more features in an even smaller package, if those 3 inches are important to you.
With the AC-1, playing is very comfortable, and the set up is very good. Out of the box, the intonation and action are excellent, and the tuners function well even after extended use. Because it's a full-sized banjo, you won't notice a difference in scale length from your usual banjo, which is a big advantage over smaller banjos. Additionally, its normal size gives it a full, loud sound.
I would recommend the AC-1 banjo to someone who just wants a regular banjo that they can use for casual playing. We consider it one of our top picks not only for traveling, but for affordable banjos as well. The bag is not portable and wouldn't be a good fit for a backpacking trip. However, its light weight and playability make it a great travel companion for anyone who doesn't need the smallest banjo possible.
Pros
Tone and playability benefit from full size

For a banjo of this size, it is very lightweight

Composite neck and body are very durable
Cons

The Deering Goodtime Parlor Banjo
Summary: Banjo that is smaller but still full-bodied
Best for: When traveling, someone who doesn't want to sacrifice sound
Taking inspiration from the parlor guitar, Deering uses the term "parlor" to describe a smaller version of a travel banjo. Goodtime parlor banjos have 19 instead of 22 frets, and are 4 inches shorter than standard travel banjo. In addition to being more portable, it is also a great size for children and anyone with small hands. In fact, it is often sold to music schools for use by younger students.
All of Deering's Goodtime banjos are made in the USA, including the parlor banjo. Weighing about 4.5 pounds, it is fairly light. Don't let its light weight fool you. Despite being constructed of hard maple, it is quite strong and will stand up to road abuse. A slight concern is that there's no truss rod for strengthening the neck, though there is a similar "coordinator rod" that can be used to make adjustments. On this travel banjo, I wouldn't expect any issues with the neck, but a truss rod is usually a better option.
Goodtime Banjo Styles – Parlor Banjo
A great thing about the parlor banjo is that it has a full-sized, 11-inch head, unlike smaller banjos. Due to the smaller scale length, you can still get a loud, full sound from it. You'll definitely be heard in a jam session or group setting. It has a great plunky tone that is especially good for claw hammer, though it also has a nice punch that works for bluegrass. Despite its shorter scale, it still feels very comfortable to play, and the setup out of the box is excellent.
As with any short-scale banjo, you will need to use heavier strings on the Goodtime parlor banjo in order to keep it tuned in standard G tuning. Using standard banjo strings, it also sounds quite nice in A tuning (aEAC#E).

The Gold Tone Plucky Travel Banjo
Summary: This mini banjo is sturdy and still sounds great
Best for: Anyone looking for a lightweight banjo without sacrificing tone
This tiny banjo has a cute name, Plucky. Gold Tone designed this mini travel banjo with portability in mind, and it is compact and lightweight. However, don't be fooled by cute looks into thinking this is a toy! Assembly and setting up of the Plucky are as meticulous as those of Gold Tone's other banjos, making it the best-sounding mini travel banjo available.
A mini banjo designed for "C tuning," cGCEG, is the Gold Tone Plucky. It looks like you've put a capo on the 5th fret, or a 4th higher than standard banjo tuning. Bright and jangly, it packs a lot of punch, but does not have a lot of sustain. There is some shrillness at the top of the range, but that's to be expected when you're at that height. As a result of its smaller body, it's a little quieter than a standard banjo. Although the higher tone helps it project more, so it shouldn't be difficult to be heard.
Plucky's fretboard is a little crowded considering it is a mini banjo. This is especially true up the neck, where the frets get very close together. Even those with large hands and fingers shouldn't have a problem playing this, as Gold Tone did a good job keeping it playable. You'll feel right at home with the Plucky if you've ever played a concert ukulele.
In addition to its solid construction, the Plucky can withstand a lot of abuse while out on the road. While still being quite lightweight, the Plucky is quite portable. As light as you can get a banjo, this one weighs around 2 pounds, so it's good for hiking. It's also short enough to fit just about in a carry-on bag.
Pros
A compact and lightweight device

Strongly constructed
Cons
At its highest notes, it becomes shrill

The Dean Backwoods Mini Travel Banjo
Summary: Banjo with Goldilocks size and great playability
Best for: Banjo players who want to travel light but still play standard tuning
Perhaps the best way to describe the Dean Backwoods Mini is as a big mini banjo. That may sound strange, but it is the best way to describe it. Nonetheless, it's not quite a "short scale" banjo like the Goodtime parlor, which has a scale length of 24″. The *16′′ Gold Tone Plucky is also not as small. As a result, it's a bit of a Goldilocks instrument for those who want to go small without sacrificing too much fretboard space.
With a scale length of 20 inches, the Dean Backwoods Mini is just at the edge of being able to be tuned to standard banjo tuning (gDGBD). This is certainly possible, and can sound okay, but a higher tuning would be more suitable. You will not be able to use regular banjo strings if you want to use standard tuning. Instead, use a tool like the D'Addario String Tension Pro to figure out how heavy you need to go.
At just over 30 inches long, the Dean Backwoods Mini banjo is quite compact. Even though it doesn't quite fit in a standard carry-on bag, it will still fit easily in an overhead compartment or perhaps under your airplane seat. The AC-2's weight, at about 4 pounds, is the same as the Gold Tone AC-1, which is surprisingly heavy for its small size. While it won't quite be as light as a feather as the name suggests, it's still not a bad choice for hiking.
Pros
Scale length that allows standard tuning while remaining short

The space between the fretboards is still very comfortable
Cons
It's not as compact as the Plucky

Standard tuning requires heavy strings

The Rogue Starter/Travel Banjo
Summary: An all-in-one banjo that has everything you need and nothing you don't
Best for: Someone looking for a cheap knockaround travel banjo
The Rogue "travel banjo" is simply an inexpensive full-sized banjo, like the Gold Tone AC-1. The travel banjo from Rogue continues the company's tradition of making inexpensive instruments that still sound and play well. The banjo may feel and sound clunky, but it is sturdy enough to withstand daily use. It is also very reasonably priced.
Travel banjos like the Rogue AC-1 aren't as light as gold tone banjos. Even so, it is not particularly heavy for a banjo, especially since it does not have a metal tone ring or a resonator. Old-time claw hammer playing suits this instrument better than bluegrass because it has a hollow, plunker sound. The neck of the Rogue starter/travel banjo is a little chunky, but it is still pretty comfortable to play. It's designed for beginners!

The box doesn't come very well set up out of the box. In order to avoid bad intonation, you must set the bridge correctly when tuning the guitar. The process is fairly simple. Start by measuring the distance between the nut and the 12th fret. Then measure the same distance from the 12th fret onto the head. This is where your bridge goes! Since banjo bridges can be easily knocked out of place during travel, it's a good skill to have anyway.
Pros
Cons
Needs to be set up out of the box

Tone isn't well suited for bluegrass